Easily Get Started with Everything You Need
We've made starting simple by providing everything you need in one place, from setting up your store to managing subscribers.
Easy-to-use Designer
No need for coding knowledge, just pick one of the many beautifully-designed themes from our template library.
Straightforward Tools
All your business processes and analytics can be found in one convenient place, the Cratejoy Dashboard.
Knowledgeable Support
Our best-in-class support team is here for you with expert knowledge and always ready to help via email and live chat.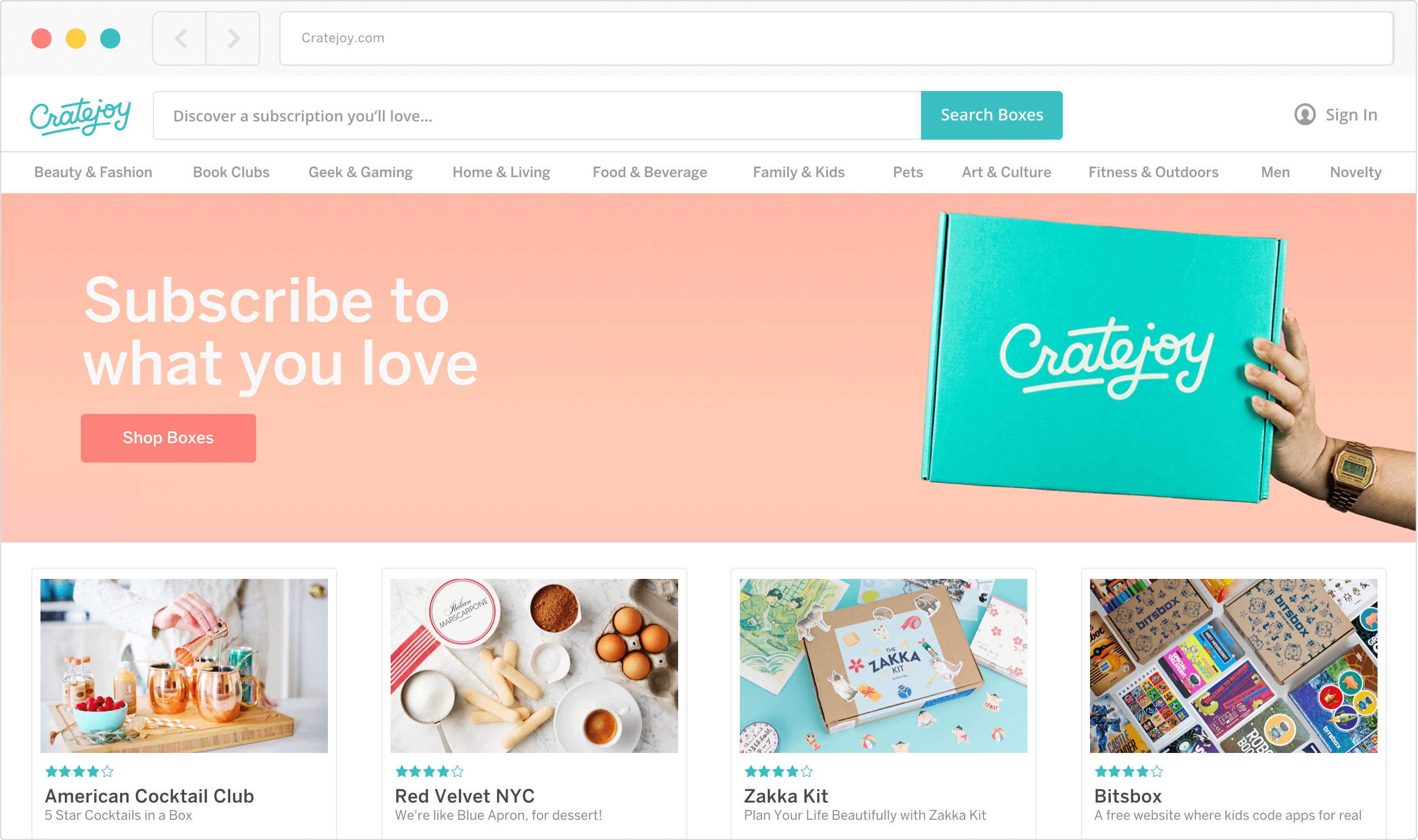 Marketplace Helps you Acquire Customers
Cratejoy's Marketplace is a no-brainer for merchants who are just getting started.
Marketplace Increases Exposure
With millions of monthly visitors, Cratejoy's Marketplace helps drive traffic to your listing and get you sales.
Box Insider Feature Possibilities
Cratejoy's Box Insider blog drives 150K+ views per month, and people are more likely to make a purchase after reading a piece of our content.
Marketing + PR Opportunities
Listing on the Marketplace gets you considered for major media placements and email newsletters coordinated by Cratejoy's marketing team.
Grow Your Business with Cratejoy
From starting to growing your business, we're here for you every step of the way.
Integrations With Shipping + Email Providers
Integration is a breeze with the most popular shipping and email providers like ShipStation, Pirate Ship, and MailChimp.
An Entire Community Dedicated To You
Cratejoy's Subscription School Facebook group is a treasure trove of support and knowledge from like-minded merchants who have been in your shoes.
Resources to Help You Grow
Subscription School features a continuously-expanding directory of educational resources like blogs, articles, infographics, and webinars.
Merchant Story
Sensory Theraplay Box • West Salem, NY
What Merchants are Saying