Cratejoy's Website Designer
Build your own subscription website.
Strengthen Your Brand
Having your own site legitimizes your brand and you as a business owner.
No HTML/CSS Knowledge? No Problem!
Just use one of our subscription commerce optimized templates.
Customizable for Success
Upload and modify images and change fonts, colors, and content.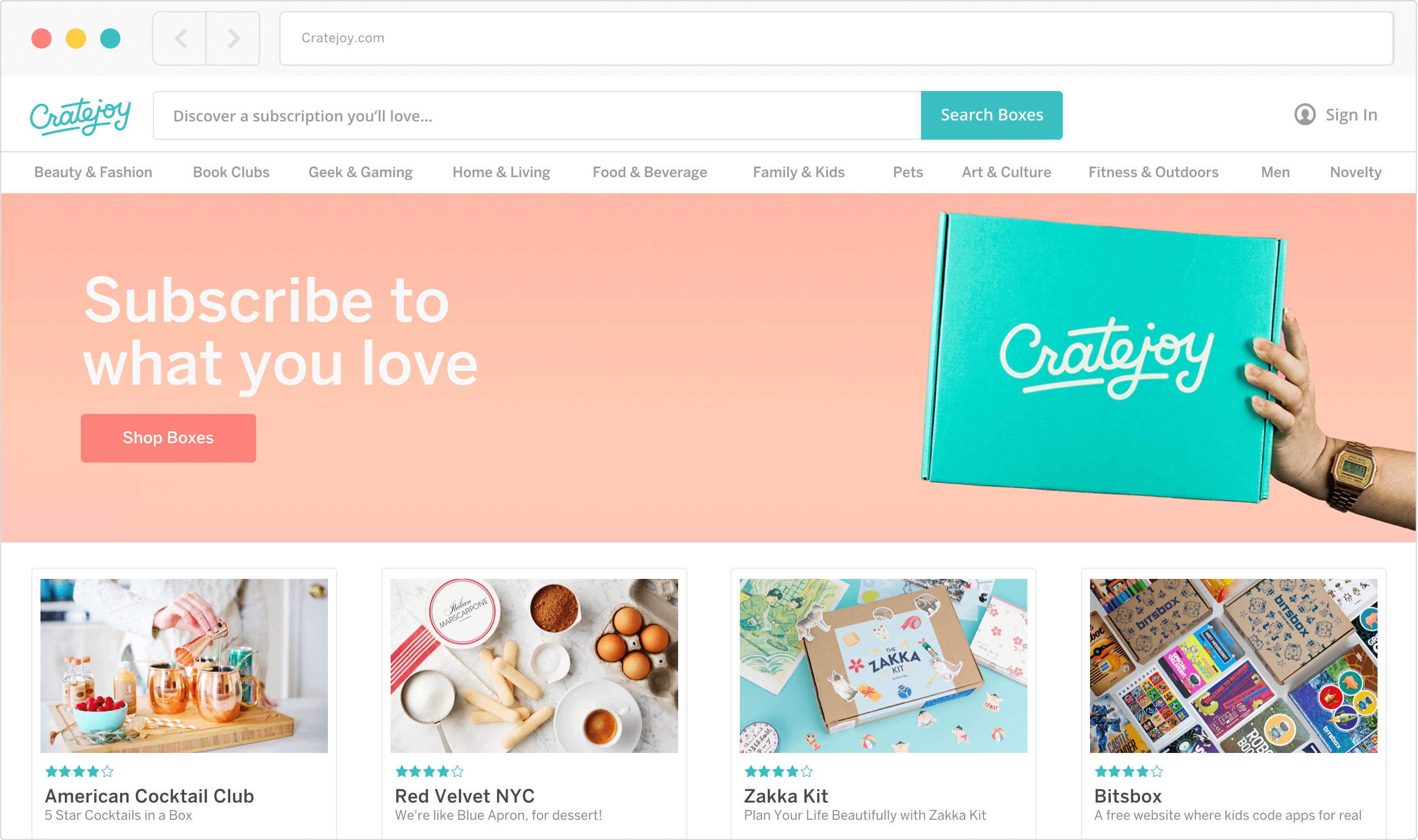 Marketplace
Receive unparalleled exposure to subscription box fans.
Zero-Risk Subscriber Acquisition
Cratejoy takes on all the financial risk of customer acquisition efforts.
Marketing + PR Placements
Potential placements in Cratejoy's ongoing marketing + PR campaigns.
Search Discovery Tool
96% of Cratejoy searches are generic terms that lead to box discovery.
Tools Built For Retention + Growth
Simplify your life with our all-in-one solution.
Conversion and Traffic Reports
Track and optimize conversion funnels directly in Cratejoy, no marketing integrations required.
Subscription KPI Tracking
Monitor KPI metrics like churn and cancellation analytics in the dashboard.
Cash Flow Reports
Cash flow reports are built right into your management interface.
Merchant Story
Shaker & Spoon • Brooklyn, NY
What Merchants are Saying
Turn your brand and influence into a subscription box
We offer a turnkey solution and menu of services that turn your vision into reality. You focus on your audience, and we'll take care of the rest.
Product
Our experts handle all aspects of web development, box design, product curation, and product sourcing.
Technology & Marketing
You know how expensive technology and marketing can be. We will make this easy with our proprietary solutions.
Operations
You don't want to worry about inventory, logistics, or customer service. Let us do the heavy lifting.