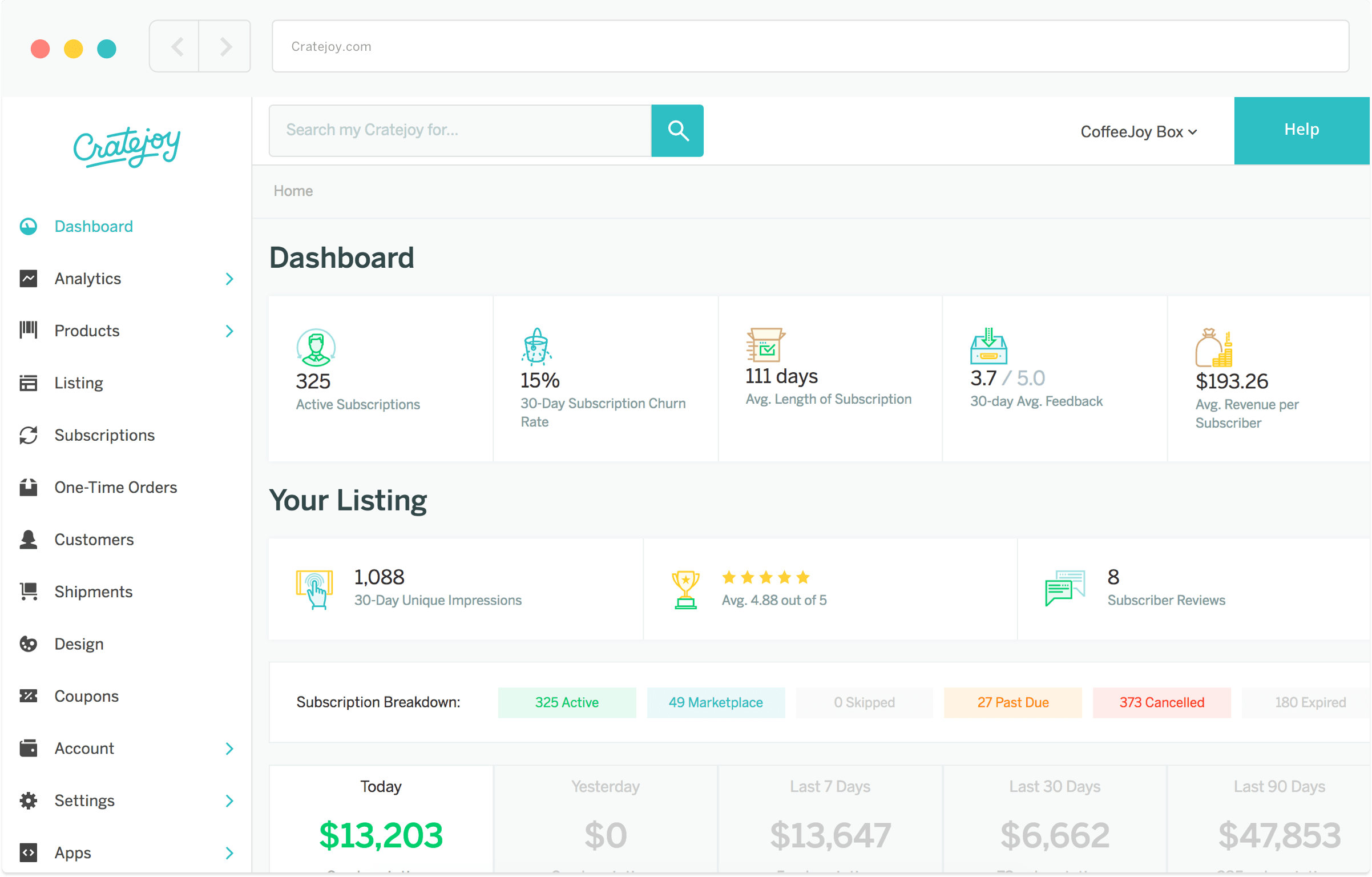 A Comprehensive Dashboard
Making things simpler for you to run your subscription in one convenient place
Subscription Options
Manage logistics and fulfillment for your subscription boxes.
Grow Your Customer Base
Get all the insights, data, and customizable tools you need for success.
Collect Payments Quickly
We support major payment gateways such as Stripe.
Subscription Box CRM
Streamline your business process with our built-in management tools
Easy Subscription Management
Subscribers can manage their subscriptions from their own account.
Customer Profiles and History
Easily view customer information and update billing/shipping information.
Cancellations and Refunds
Cancel or refund an order with a few clicks on the customer management interface.
Subscription Site Designer
Build and customize your brand and website
Customizable Templates
Cratejoy has a library of subscription commerce-optimized customizable templates to choose from.
Brand and Customize Your Store
You have complete control over the look and feel of your storefront with our customizable HTML and CSS storefront.
99.9% Uptime and 24/7 monitoring
Our team of infrastructure engineers monitor all aspects of the platform continuously for any signs of trouble.
Get subscribers through the Marketplace
Listing on the Cratejoy marketplace puts you in front of millions of customers monthly and gives you the opportunity to be included in Cratejoy's extensive PR and Marketing.
30,000 + monthly transactions
3 Million + monthly page views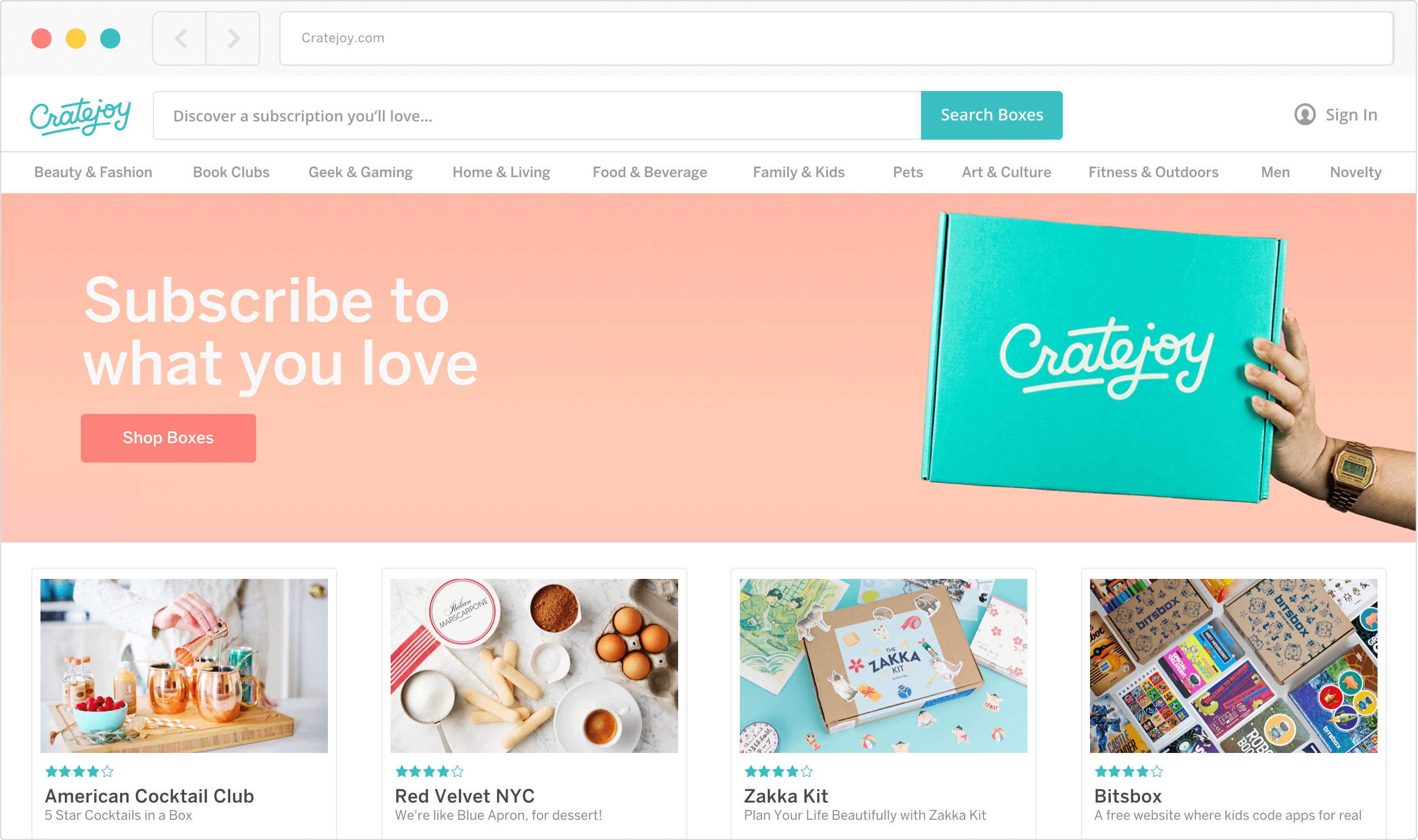 Track Your Business Health with Subscription KPIs
Monitor the most important health metrics for any subscription business right in the Cratejoy dashboard such as Churn, Cancellation analytics, Conversion funnel analytics, Traffic sources, Lifetime value, and more.
Exports and APIs for Power Users
Cratejoy makes it easy to export data to CSVs so you can crunch numbers in your favorite business tools like Excel or Numbers. Have existing business intelligence tools? Use our Cratejoy API to feed Cratejoy data into whatever system you want.
Cash Flow Reports
Managing cash flow can be difficult, but Cratejoy helps you understand how much money should be arriving each month on a cash basis or on accrual basis. These reports are built right into your management interface.
Drive Conversions with Customizable Coupons
Whether you need a single code for just one customer or 1000 codes for a daily deal site, you can set up your own promotions with Cratejoy coupons with custom discounts and limitations.
Shipping- and tax-smart checkout
Customize your checkout experience to collect the right taxes and shipping rates. Configure and automatically calculate shipping rates based on product, weight, order total, or price. Calculate and collect taxes based on your location and your customer's home address.
Google Analytics - Ready
Your listing is ready for Google Analytics out of the box and includes Google Analytics Ecommerce support.
Competitive Shipping Rates
Our exclusive relationships with major shipping carriers provide competitive rates we pass on to Cratejoy merchants.
Print Your Own Shipping Labels
Use your own thermal printer to print shipping labels directly from Cratejoy, no third-party services required.
Take the Guesswork out of Fulfillment
Cratejoy's shipping exports and pages let you see all customer variants, gifts, notes, and surveys at glance.
Shipping Integrations
Cratejoy integrates with third-party fulfillment solutions like ShipStation and Pirate Ship.
Subscriber Managment
Reduce customer support calls and emails! Your subscribers can manage their own subscriptions and change product options right from their account.
Streamlined Customer Management
Your customer's order history, active subscriptions, shipping information, and notes are all linked together in your customer management interface, so it's easier to handle customer questions or support issues.
Reduce Subscriber Churn and Lost Packages
Your subscribers can update their billing and shipping information directly, so you aren't losing customers or shipments due to out-of-date information.
Cancellations, Support, and Refunds
You can cancel an active subscription, refund an order, or partially refund an order with a few clicks on the customer management interface. This makes it easier to handle customer mistakes, or tricky support situations.
Skip a Renewal
Keep your subscribers from cancelling by letting them skip a renewal cycle if they're going out of town or have enough products.
Grow Your Subscriber Base with Dual-Incentive Campaigns
Build refer-a-friend campaigns into your checkout and customer account pages, with no third party tools necessary. Pick your own channels, from email to social sharing. Pick whatever incentive you'd like, from a free month to 50% off.
Get Insight into your Best Performing Channels
Track number of shares, overall traffic, and conversion rates across all referring channels.
One-time Products
Using our one-time sales engine you can offload excess inventory, offer your subscribers additional products, or allow subscribers to purchase replenishments on an ad-hoc basis.
Integrate with other Ecommerce Tools
Integrate with cart abandonment tools like CartHook or email acquisition tools like SumoMe.
Support Multiple Users
Add more logins and users as your team grows, with permissions and access levels mapped to a user's role.
Build Your Brand Through Customized Emails
All stores come with customizable email templates to notify your customers based on specific events. Automatically send a welcome email, shipping and refund notices, shipment and tracking notices, receipts and more.
Safe, Level-1 PCI Compliant, & SSL Certified Site
Cratejoy stores all credit card information in a Level-1 PCI compliant vault. Your storefront includes an SSL certificate at checkout and when logged in so your customer's payment and personal data will never be at risk to hackers.
Offer One-time Product Add-ons
Increase your revenue by offering one-time products to customers buying a subscription.
Integrate with the tools you already use
Cratejoy provides a seamless integration with all the apps you need to grow your business.
Simple, Affordable Pricing
We offer the most affordable pricing for running a subscription box business.
One Monthly Cost
Build a Custom Website
List on the Marketplace
Integrate with the apps you use
Create custom solutions with the API
Learn More
+ Transaction Fees
Sales on Your Website
+ 1.25% + $.10
All sales are subject to additional fees from your payment processor